Joined

Apr 11, 2006
Messages

50,403
Reaction score

151
Location
Not sure if anyone else has these figures, but I got one in the mail today (seriously USPS on a Sunday?!?) and thought I'd share. The Apexplorers series is from Winson Studios (same that did Fire Specter), and produced by Hot Toys.
The line is an in-house creation, but there are numerous characters and a basic storyline which you can see here:
Winson Creation
But, anyway, like I said I just got the second figure from the series, T-Rex, in today and I am seriously blown away! I really don't think I have any figures that can compare to the quality and detail of this piece. It has some faults, but the outfit and accessories are mind-blowing in person.
Great detail on his gun, has removable clip and the drill is metal...
Also the chest piece and pick axe are die-cast as well.
Notice the weld-lines on the pick-axe... very realistic details.
Also, this figure is massive... clocking in at 14"!!!​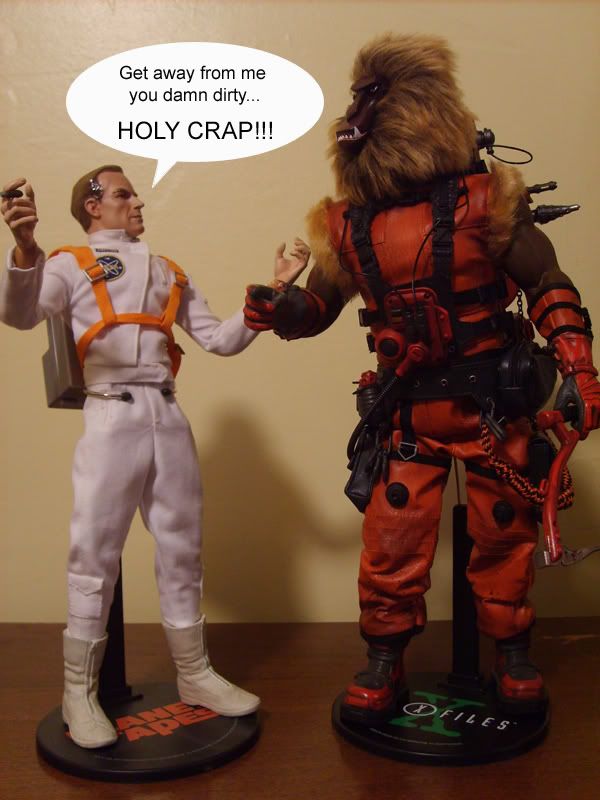 As a nice touch the packaging designed almost exactly like Sideshow's Star Wars figures. It has the nice opening box, with 2 plastic trays and they box is held closed with magnets... very classy.
As I said, its not perfect and the biggest issue is the articulation. This is huge muscular HT body, much larger than the standard version. And it has much less articulation... it also makes the figure very top heavy which means using a stand (which is not included) is a complete necessity.
However, this figure is still all kinds of awesome and I'm now on the hunt to find the first figure in the series. If anyone's on the fence I suggest jumping on these now!
Last edited: